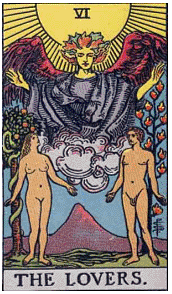 THE LOVERS: Stark Choices! Make a very clear choice between alternatives, because one choice is compatible with your self, and the other is not, but please avoid a compromise as this becomes unsettling. A correct choice has a healing effect. Positive discrimination is good for health therapy; that is avoiding what the experts advise you to avoid in order to enjoy good health. Romance in a love triangle, where one person has multiple partners. Love your inner God. Your ying should balance your yang for peace profound. Arch Angel Raphael watches over your 'Tree of Life' and heals you, by wishing you to make a good choice or heals you by presenting you with the perfect choice
Prayer of the Day: 
Let God choose for me
Good habits for good health.
Let my inner self
Perfectly guide me to choose my partner
Oh God, deliver me from temptations
Pick a second Psalm 3, 12, 21, 30, 39, 48, 57, 66, 75, 84, 93, 102, 111, 120, 129, 138, 147,
and
Pick a second Psalm; 6, 15, 24, 33, 42, 51, 60, 69, 78, 87, 96, 105, 114, 123, 132, 141, 150,
Call 'JEHOVAH ELOHIM' AND 'JEHOVAH ELOAH VA DAATH' to answer your prayers.