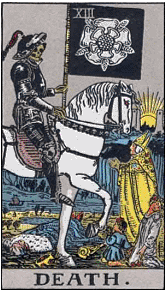 DEATH: Change through an inner transformation that the self is unwilling to accept. New life. Something or someone has outlived the usefulness of your association. Divorce before a new marriage. Plain divorce with its trauma; wipe your eyes, tomorrow is a new day! Personal ego is unwilling to accept the change imposed by the God-self. Biological transition of life to a physically dead state; the joke and reality here is, if you were dead, you would not be reading this; and so the advice is ATTEND TO HEALTH matters! Moving house gives a new chapter of life, even when you do not wish to move! Let go of the past, move on!
Prayer of the Day:  Divine transformation;
Change for the better
New life.
Pick a Psalm of the Day: 6, 15, 24, 33, 42, 51, 60, 69, 78, 87, 96, 105, 114, 123, 132, 141, 150,
and
Pick a second Psalm of the day: 7, 16, 25, 34, 43, 52, 61, 70, 79, 88, 97, 106, 115, 124, 133, 142,
Call 'JEHOVAH ELOAH VA DAATH' AND 'JEHOVAH ISABAOTH' to answer your Prayers