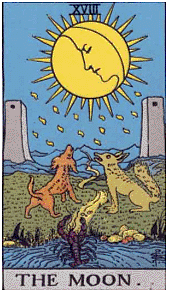 THE MOON: The 'mother witch' feeds on your phantom fears, therefore cultivate positive thinking at all costs. Traditionally this Tarot card is called 'The Mother Witch'; and your superstitions become real only through your fears. Secret opposition persists and drains you of your energy. In health matters attend to 'deep-seated' and chronic challenges. Moon eclipsing the vitality of spiritual health. Travel over water is possible if desired. The past surfaces in your subconscious. Severe depression or anxiety. Blight on hopes for marriage or fertility. Negative; phobia. Positive; your positive thinking is your shield. Focus on the house of light, there your God dwells. Use intuition.
The folk archetype of the woman nature. Opposition is persistent and occultic; respond by being consistent in positive psychology and balance it with creative action.
Prayer of the Day: 
Divine victory.
Positive thinking.
I am the Magus.
My will is done.
I am the master of my fate and destiny
What I will, manifests.
Pick a Psalm for the Day; 7, 16, 25, 34, 43, 52, 61, 70, 79, 88, 97, 106, 115, 124, 133, 142,
and
Pick a second Psalm of the day: 1, 10, 19, 28, 37, 46, 55, 64, 73, 82, 91, 100, 109, 118, 127, 136, 145,
Call 'JEHOVAH TSABAOTH' AND 'ADONAI HA ARETZ' to answer your Prayers